2019
Included in the list of World's 100 Most Influential People in Climate Policy for 2019 by Apolitical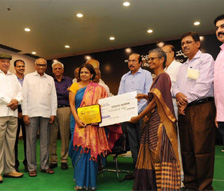 2017
Sri Chukkapalli Pitchaiah Foundation Award for 2017 instituted by the Sri Chukkapalli Pitchaiah Foundation, Vijayawada, Andra Pradesh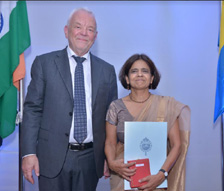 2017
The Order of the Polar Star award from the Swedish Government for Swedish and foreign "civic merits, for devotion to duty, for science, literary, learned and useful works and for new and beneficial institutions".
2017
Down To Earth got the first ISC-FICCI award for best media for Sanitation.
Indian Eye International Human Rights Observer's Life Time Achievement Award
2016
Centre for Science and Environment got the Public Institution of the year award by Business Standard
V.C. Padmanabhan Memorial Award for Excellence in the category of "Ecology and Environment Conservation" instituted by Manappuram Finance Limited, Kerala
Indian Eye International Human Rights Observer's Life Time Achievement Award
Climate Change Communication Research in Action Award from The International Association for Media and Communication Research (IAMCR)
Aqua Foundation's Excellence Award for Life Time Achievement
2015
Centre for Science and Environment got the Public Institution of the year award by Business Standard
2014
Energy and Environment Foundation Global Excellence Award 2014 in Renewable Energy by Energy and Envronment Foundation Delhi, August 2014.
2011
The M R Pai Memorial Award instituted by All-India Bank Depositors' Association (Mumbai). July 2011.
'The Citizen of the Decade Award 2011' from the Rotary International District 3201, Kerala in January 2011.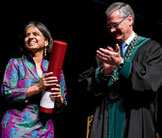 2010
Honorary Doctorate, Faculty of Geosciences and Environment, University of Lausanne, Switzerland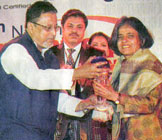 2010
Life time achievement award presented by Annex College of Management Studies (ACMS).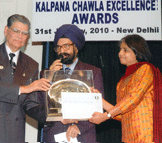 2010
Kalpana Chawla Excellence Award instituted by PECOBA (Punjab Engineering College Chandigarh Old Boys Association).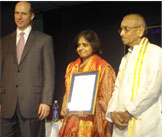 2009
Raja-Lakshmi Award for the year 2009 in recognition to her tremendous achievements in the field of Science and Environment from Sri Raja-Lakshmi Foundation, Chennai, India.
2009
Selected as one of the 'Top Global Thinkers of 2009' by the Foreign Policy magazine.
2009
Honorary D.Sc. Degree from University of Calcutta, India.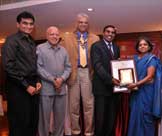 2009
M.S. Swaminathan Award for Environmental Protection from Rotary Club of Madras East, Chennai, India.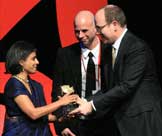 2008
UK Prince Albert II of Monaco Foundation Water Award for her work highlighting the need for water security and the use of rainwater harvesting in India from Fondation Prince Albert II de Monaco, Monaco.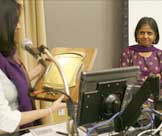 2008
Received the Dr Jean Mayer Global Citizenship award from Tufts University, Massachusetts.
2008
In 2005 and 2008, British Magazine Prospect and the American Magazine Foreign policy included her among the world's 100 public intellectuals.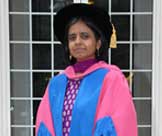 2007
Received the honorary doctorate from Cranfield University, UK.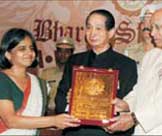 2006
Bharat Shiromani award for the year 2006 by Shiromani Institute, India.
2005
Indian Water works Association award in recognition of the outstanding contribution in environmental issues.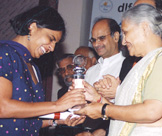 2005
Delhi Ratna award by the PHD Chamber of Commerce and Industry for her valuable contribution to Delhi - The City of Excellence.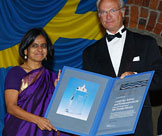 2005
Stockholm Water Prize (2005) for CSE for its work in promoting effective water management along with improved human rights under the dynamic leadership of Sunita Narain from the World Water Institute, Stockholm, Sweden.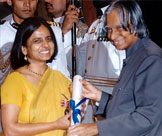 2005
Padma Shri Award from the Government of India.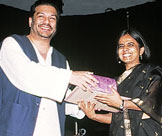 2005
Chameli Devi Jain Award for an outstanding woman media person by the Media Foundation.
2004
Siri Ram Washeshran Devi Bhatia Memorial Charitable Trust Annual Award for the year 2003-04.
2003
Dadabhai Naoroji Millennium Award, for the year 2003 by Dadabhai Naoroji International Society, New Delhi.
2003
Rotary Eco Foundation Award - outstanding work done in the field of rainwater harvesting in Delhi and surrounding areas.
2002
Selected for the Dr B. C. Deb Memorial Award for the popularisation of science by the Indian Science Congress Association, Calcutta.