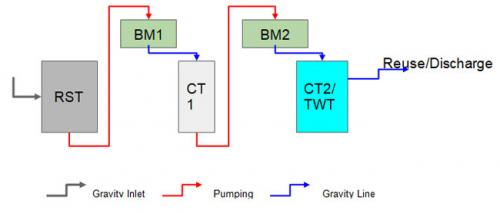 RST:- Raw Sewage Tank, CT1:- Collection Tank 1, CT2:- Collection Tank 2, TWT:- Treated Water Tank, BM1:- Bio Mound 1, BM2:- Bio Mound 2
The sewage from the facility after Preliminary Screening gets collected to Raw Sewage Tank (RST) for collection and equalization. The raw water is pumped to Bio Mound 1 (BM1) via the piping network in BM1 which enables equal distribution of sewage throughout the reactor surface area. The sewage distributed in BM1 gets trickled down by gravity in Collection Tank 1 (CT1). Similarly, the water in CT1 gets pumped to Bio Mound 2 (BM2) further treated and collected in Collection Tank 2 (CT2). The water in the CT2 Tank is the treated water and hence CT2 is named as Treated Water Tank (TWT) also.

From L-R:- RST,CT1, CT2/TWT
Since three year of Operation & Maintenance, Plant has been able to achieve sustained results with treatment efficiency in terms of TSS (>85%), BOD (>85%) & COD (>85%). The treated water is odour-free and colour free.