"Unpredictable Weather, Unreliable Insurance, Unbelievable Profit to Companies"
Farmers across India suffered heavy losses when the monsoon turned out to be a non-starter. The Pradhan Mantri Fasal Bima Yojana, the government's flagship crop insurance scheme, was expected to help them tide over the crisis.

Insuring Agriculture in Times of Climate Change
A scoping study on the role of agriculture insurance in protecting farmers of Asia and Africa from extreme weather events

Report: "Lived Anomaly: How to enable farmers in India cope with extreme weather events"
Lived Anomaly is about what is happening to farmers in India because of extreme weather events, largely as told by farmers themselves. Its basis is the winter–spring of 2015 and the telling aftermath. The report is also a peek into the future—what we should expect as our planet continues to heat up due to the incessant increase in greenhouse gas emissions.
Download Report (pdf)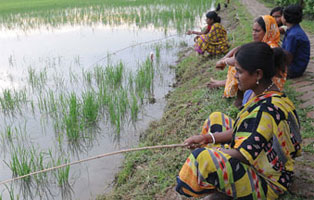 Impact, vulnerability and adaptation challenges in Indian Sundarbans For residents of Indian Sundarbans, climate change is now a part of their daily survival battles. While the global negotiations towards mitigation of climate change have remained inconclusive over the years, sea level rise, cyclones, rainfall patterns have kept changing for the worse. Life is much more difficult now and development of the area more expensive. But climate change is not the only culprit for the hardship that people face today. There have been significant failures in development planning and strategies on the part of local and national governments, compromising the capacity of locals to adapt effectively. In absence of planning and institutional support, people have little choice but to adapt on their own. Till now, their only response has been to migrate out, which also underlines the absence of options for the poor to adapt meaningfully.