Scale of
service

Community level

Area of installation
(Sq-m)

580 Sq-m

Year of
Installation

August 2020

Capital cost

Rs. 1.08 Crores

Location

Kundal

Operational &
Maintenance cost

Rs. 6.8 Lakhs per annum

Implementing & Funding
Agency

National Bank for Agriculture and Rural Development

Design Capacity

500 KLD
Sewage treatment facility for the Kundal village, Sangli, Maharashtra was designed for the capacity of 500 KLD. The wastewater is collected from the entire kundal town and brought to the treatment plant where treatment is done on the basis of CAMUS-SBT Technology. The plant was inaugurated by Shri Jayant Patil Minister for Water Resources Maharashtra Government on 15th August 2020.
The sewage water coming from the septic tanks is passed through a fine Screen and enters to the wet well. Water from the wet well is pumped to Bio Mound 1 (BM1) via the piping network in BM1 which enables equal distribution of sewage throughout the reactor surface area. The sewage distributed in BM1 gets trickled down by gravity in Collection Tank 1 (CT1). Similarly, the water in CT1 gets pumped to Bio Mound 2 (BM2) which gets treated and collected in Collection Tank 2 (CT2). The process of disinfection is done in the CT2. The water in the CT2 Tank is the treated water and hence CT2 is named as Treated Water Tank (TWT).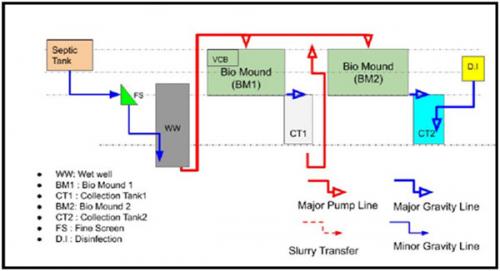 Plant is now able to achieve sustained results in terms of removal efficiency; TSS( >85%), BOD(>85%) & COD (>85%). The treated water is odour / colour free and capable of meeting the CPCB standards as well as new NGT norms.
Mr. Vinay Kulkarni
9503131477
For Vision Earthcare Pvt Ltd.
Mr. Mohit Hariya
Designation Maintenance Manager (Vision Earthcare Pvt. Ltd.)
Email Address maintenance@visionearthcare.com
Phone No. +91 7304540858
Address: HDIL Residency Park, Virar
Website http://www.hdil.in/