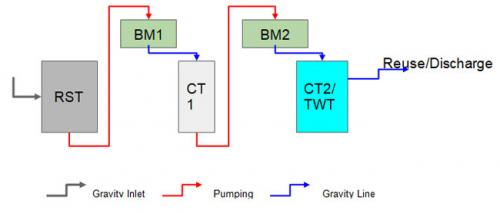 RST:- Raw Sewage Tank, CT1:- Collection Tank 1, CT2:- Collection Tank 2, TWT:- Treated Water Tank, BM1:- Bio Mound 1, BM2:- Bio Mound 2
The sewage from the facility after Preliminary Screening gets collected in Wet Well (WW) as the invert level is below the levels of Raw Sewage Tank (RST), the sewage in WW is pumped to RST. The raw water is pumped to Bio Mound 1 (BM1) via the piping network in BM1 which enables equal distribution of sewage throughout the reactor surface area. The sewage distributed in BM1 gets trickled down by gravity in Collection Tank 1 (CT1). Similarly, the water in CT1 gets pumped to Bio Mound 2 (BM2) which gets treated and collected in Collection Tank 2 (CT2). The water in the CT2 Tank is the treated water and hence CT2 is named as Treated Water Tank (TWT) also.

From L-R:- RST,CT1, CT2/TWT
Since one year of Operation & Maintenance, Plant has been able to achieve sustained results with treatment efficiency in terms of reduction of TSS (>85%), BOD (>85%) & COD (>85%). The water is odour-free and colour free (Refer to the second bottle from Right compared to Drinking Water).
Senior Manager (Engg-Civil)
Airport Director Airports Authority of India, Civil Aerodrome, Harni Road Vadodara-390022 (Gujarat)
apdvadodara@aai.aero
https://www.aai.aero/en/airports/vadodara
For Vision Earthcare Pvt. Ltd.
Dr Chandrashekar Shankar