SOME GLIMPSES…
In 2022, extreme weather events struck India on

314 out of the 365 days.

Over 70 per cent

of India's population cannot afford a healthy diet.

Telangana

tops the list among states in environment management.
While India's capacity to treat its municipal solid waste improved from

19%

in 2015-16 to

50%

in 2020-21, 32% of the waste it generates remains unaccounted for.

Assam and West Bengal

have the highest unaccounted for waste.
Punjab, Rajasthan and Haryana

extract more groundwater

than what is recharged.

Maharashtra

has the highest number of polluted rivers in the country, followed by Madhya Pradesh, Bihar and Kerala. And much mo
And much more…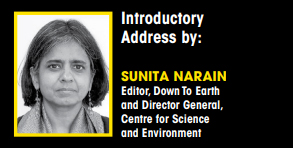 A statistical retelling of the story of India's environment today. With a comprehensive, one-of-its-kind ranking of the states of India on multiple parametres of environment and development. And databased assessments of a host of other issues like agriculture, climate change, waste and air pollution… it's all there. The truth, as it is. Because numbers tell the truth.

Ring in the World Environment Day. Join us for the release of our annual e-publication, the State of India's Environment in Figures 2023.
ALL ARE WELCOME