Zanzibar's has recently passed the Urban Municipal Council Solid Waste Management (SWM) Regulations, 2019, developed by Centre for Science and Environment (CSE) to ensure sustainable SWM.The draft regulation was approved during the full council meeting at the Zanzibar Urban Municipal Council (ZUMC) on February 1, 2019, and was further approved by the Regional Commissioner's office and the Ministry of the Local Administration, Zanzibar. The new regulation is currently under government press for printing as a gazette notification.It is the first of its kind in East Africa and is based on the 'Polluter Pays Principle'.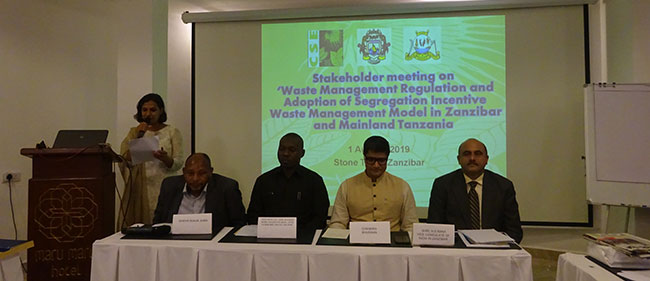 CSE has been working with Zanzibar Environmental Management Authority (ZEMA), Department of Environment and the ZUMC since January 2017, to implement decen­tralised waste management systems and push for policy change in Zanzibar. The first pilot on decentralised waste management was launched in Santana playground in Shaurimoyo on September 6, 2017. The pilot under the programme Waste Segregation for Clean Zanzibar is now completed and all 626 households in Shaurimoyo segregate waste at source.
In about two years' time, not only has the whole of Shaurimoyo adopted the segregation incentive waste management model but the local co-operative has also been incentivised from sale of compost and recyclables.In order to replicate this work in the whole of island, it was required to have a regulation through which the segregation incentive model could be practiced across Zanzibar.