December 30, 2009
RAINWATER AVAILABLE FOR HARVESTING

Total rooftop and surface area 3,57,150 square metres (sq m)

Average annual rainfall in Delhi 611 millimetres (mm)

Total volume of rainwater harvested: 1,74,575 cubic metre (m³), or 174,575,000 litres

This represents 80 per cent of the total water harvesting potential


WATER SUPPLY SOURCE
The water supply is mainly through six borewells. Three each are owned by the Panchsheel Cooperative Group Housing Society and the Delhi Jal Board respectively. The remaining water requirements are met by individual borewells.


RAINWATER HARVESTING SYSTEM

Rooftop rainwater and surface runoff harvesting: A network of stormwater drains in the entire residential area is used for harvesting rooftop rainwater and surface runoff. About 36 Recharge wells measuring 1m x 1m x 2m are constructed in the stormwater drain for facilitating groundwater recharge. The quality of runoff, which passes through a 15m borewell installed inside the recharge well, is ensured through a filter bed of pebbles.

The project was implemented in June 2002. The cost of the entire rainwater harvesting system was Rs 8 lakh.

IMPACT

The water level in the Panchsheel Park area, considered one of Delhi's posh colonies, was declining rapidly. Keeping in view the growing water problems, the Resident Welfare Association established a rainwater harvesting system for the entire colony.
Water Quality 2004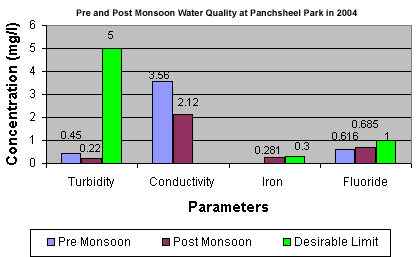 For Details:
Mr Krishan Saigal,
Panchsheel Club,
Panchsheel Park Colony,
New Delhi
Phone: (011) 26495901, 26491895, 26498511