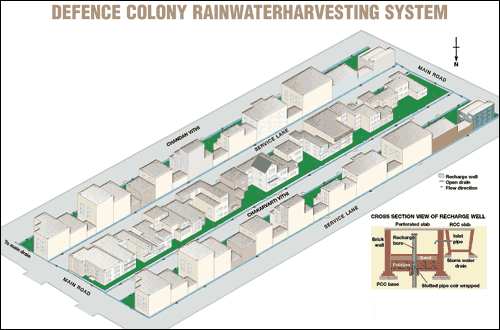 DEFENCE COLONY RAINWATER HARVESTING SYSTEM
RAINWATER AVAILABLE FOR HARVESTING
Total rooftop and surface area: 26,087 square metres (sq m)
Average annual rainfall in Delhi: 61
1.8 millimetres (mm)
Total volume of rainwater harvested: 9,563 cubic metres (m3) or 95,63,494 litres
Therefore, 60 per cent of the total rooftop and surface runoff is being harvested.
WATER SUPPLY SOURCE
The water requirement is fulfilled by private bore wells located in the back lane of houses and is supplemented by municipal supply.
RAINWATER HARVESTING SYSTEM OF CHAKARVARTY VITHI AND CHANDAN VITHI LANES IN C BLOCK
Rooftop rainwater harvesting: Rainwater from the rooftop and surface runoff from the paved area of the houses is flown into the storm water drain that runs on both sides of the main lane. Rainwater from the storm drain is diverted into recharge wells constructed along the drain at strategic locations. Initially the drains were cleaned thoroughly and with the help of one foot baffle wall, that also helps in arresting the heavysilt, rainwater is diverted to recharge wells.
The recharge wells are 1.5 m x 1 m x 2 m in size and are provided with recharge bores of 150 mm and 17 m depth. The wells are also filled up with layers of boulders, pebbles and coarse sand to ensure efficient filtration.
19 recharge wells have been constructed in the main lane and back lanes of the Chakarvarti Vithi and Chandan Vithi at different locations.
The implementation was completed in December 2003 and the groundwater level, as in February 2004, was around20 m below ground level (bgl).
The total cost incurred: Rs 2.58 lakhs
RESULTS OF MONITORING
Water level trend 2004-2011
Water level 2006
Water level 2005
Water quality 2005
Water level 2004
Water quality 2004
Water level trend 2004-2011

Water level 2006

Water level 2005

Water quality 2005

Water level 2004

Water quality 2004
For Details:
Ms Neeta Anand
C-486, Defence colony,
New Delhi,
Ph-011-2465662,
Email: nano_anand@hotmail.com