Lok Sabha finally approved the impending Companies Bill 2012 on 18th December 2012. The bill tabled in the winter session of the parliament by Ministry of Corporate Affairs supersedes the five decade old Companies Act, 1956 and contains several new provisions and amendments.
The Companies Bill applies to all the companies incorporated under this Act such as insurance companies, banking companies, companies engaged in generation or supply of electricity, corporate bodies etc. One of the highlights of the Bill is the introduction of new Corporate Social Responsibility (CSR) framework which aims at improving corporate governance. The Bill mandates companies having net worth of rupees 500 crore or more or turnover of rupees 1000 crore or more or net profit of rupees 5 crore or more during any financial year to constitute a CSR committee consisting of three or more directors. Welcoming the move Suresh Kumar Parmar, Executive Director at Centre for Training and Research in Responsible Business (an educational wing of Gandhiian Trusteeship) says "we Indians need a push and the fear of law to fulfill our obligations. Very few companies in India are doing what can actually be termed as CSR and most of the companies are only undertaking certain activities to gain PR mileage."
On the other hand Vikas Goswami, Vice President (CSR), Indus Towers is not in the favour of mandatory CSR. Vikas moots that mandatory CSR would make it gimmicky and is more likely to remain an output driven work for companies.
Other new amendments in the Bill includes:-
(i) Mandatory payment of two years' salary for companies winding up operation
(ii) Mandatory rotation of auditors every five years
(iii) Establishment of Special Fraud Investigation Office (SFIO) to investigate frauds relating to a company
(iv) Limiting the number of years an auditor can serve a company to five years and number of companies an auditor can serve to 20
(v) Constitution of National Company Law Tribunal

The Bill requires companies to furnish details about the CSR policy developed and implemented in the report by its Board of Directors in the general meeting of the company. As per the bill, companies will now have to shell out at least 2% of their average net profit (calculated as per section 198 of the Bill) on CSR activities. Sudhir Mishra, Lawyer/Managing Partner, Trust Legal Advocates and Consultants, says "this is a significant feature as this casts a duty not on the company but on the Directors to ensure that every reasonable step is being taken to ensure the adherence to this mandate. Needless to state, that if every company falling within the scope of mandatory CSR activities, earmark 2% of their profits of the past three financial years for their CSR activities and they utilise it judiciously in accordance with the CSR policy as framed by the CSR Committee, it may turn out to be significant step towards the environmental and social development of the country." In case the company fails to spend the requisite amount it has to specify the reasons for not spending the amount. Also, if the companies don't spend and don't report then Section 134 will be invoked and companies will either be fined or penalized.
The move makes India, world's first country with mandatory CSR. In countries like Denmark, United Kingdom, France and Japan reporting on CSR is mandatory but investing is not. In France for instance, reporting is carried out on 29 social, environmental and economic parameters including employment figures, waste management, health and safety, anti corruption practices etc. Companies Bill, 2012, has listed down certain activities which companies can undertake in CSR (See Box 1) but there is little understanding of what it encompasses. A thorough framework should have been devised for the implementation of CSR. Instead of listing activities that can be performed under CSR, it should be integrated in business policies, decisions and strategies. Needs assessment should be carried out to comprehend what communities need from CSR of a company rather than what companies want to give to the communities. Vikas says "CSR should be incorporated as a cradle to grave approach in the activities of a company; Companies should reengineer their processes and operations and improve the quality of life of people." Sudhir disagrees here and says "that mandatory CSR is not merely a law on paper. The framers have been careful enough to give it teeth to ensure its effective adherence and compliance. Not only does the Bill mandate companies to constitute a committee on Corporate Social Responsibility to frame a CSR policy it also casts a responsibility on the Board to ensure the monitoring of CSR policy of the company from time to time in addition to recommending the amount of expenditure towards CSR activities. Moreover, the expenditure incurred on the CSR activities has to be disclosed in the Profit & Loss statement."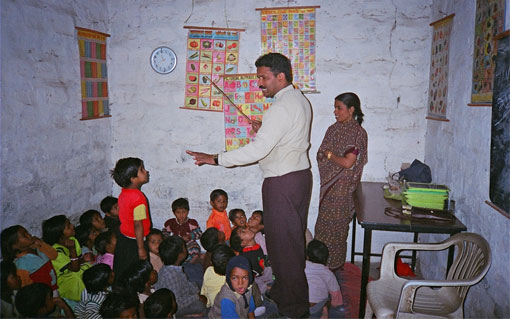 However, providing disclosures and allocating a fixed amount for CSR will not make companies responsible. Vikas questions that companies will pollute environment, abuse their employees and in the end dedicate 2% of their profits for CSR. Is this what we mean by CSR? Social and environmental responsibilities are strongly linked to values which can only be encouraged and never imposed. "Until CSR is considered business imperative and embedded as a part of organizational structure the 2% figure will likely to remain a number" rues Vikas.
(The Companies Bill 2012 awaits final approval from Rajya Sabha, to be effective for implementation)